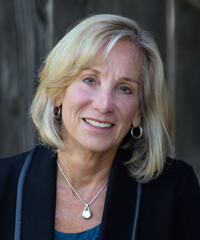 Novato, CA, May 23, 2019 – The Board of Directors of Matrix Parent Network and Resource Center announce the hiring of Beth L. Schecter, MPH, MBA, as Interim Executive Director. Effective May 16, 2019, Nora Thompson retired from her position as Executive Director after 30 years as an employee of Matrix. During Nora's tenure, the organization successfully served families of children with special needs, ages birth to 22, in the counties of Marin, Napa, Solano, and Sonoma. Parents have turned to Matrix during some of the most difficult times for their families and received exactly the help they needed under Nora's guidance. Nora will be greatly missed and we wish her well.
During the transition to identify Nora's replacement, the Board contacted the Center for Volunteer and Nonprofit Leadership to help in the selection process. Beth was chosen to serve as the transition specialist to Matrix.
Beth has served as an Interim Executive Director for 14 nonprofits and the permanent director of four social service and mental health organizations in Contra Costa, Marin, and the Peninsula. She has 27 years of executive management experience. She has worked with many family service organizations and has run family resource centers and child welfare programs. Organizations she has worked with include Edgewood Center for Children and Families, Jewish Family and Children's Services, East Bay Agency for Children, UCSF Infant Parent Program, Agricultural Institute of Marin, Shelter, Inc., and many more. She specializes in transition management and board governance.
Beth looks forward to working with Matrix, "I am delighted to work with this important organization during this critical time in its lifecycle. When a long term leader such as Nora exits, it is so important to have experienced leadership ensure the continuation of stellar services and the ongoing sustainability of the organization. I am excited to be working with Matrix and for the counties and families they serve."
Matrix's mission is Empowering Families of Children with Special needs to successfully understand and access the systems that serve them. Achieving this mission requires close collaboration and consistent mutual support among many community organizations, resources, and systems that serve families and children with special needs. Matrix serves as a regional Technical Assistance center for 11 states and 26 organizations as well as an Early Start Family Resource Center for Marin, Solano, and Sonoma counties.
The Board of Directors believes that with the right leadership, Matrix will thrive and continue to effectively serve our constituents. Alexis Lynch, Board President, had this to say, "We look forward to working with Beth over the next several months while we determine the best new leadership for Matrix as we move into our future and achieve our strategic goals."
Un Anuncio de la Junta de Directores de Matrix Parent Network and Resource Center
Novato, CA, 23 de Mayo de 2019 – La Junta de Directores de Matrix Parent Network y Resource Center anuncian la contratación de Beth L. Schecter, MPH, MBA, como Directora Ejecutiva Interina. A partir del 16 de mayo de 2019, Nora Thompson se retiró de su puesto como Directora Ejecutiva después de 30 años como empleada de Matrix. Durante el mandato de Nora, la organización atendió con éxito a familias de niños con necesidades especiales, desde el nacimiento hasta los 22 años, en los condados de Marin, Napa, Solano y Sonoma. Los padres se han dirigido a Matrix durante algunos de los momentos más difíciles para sus familias y han recibido exactamente la ayuda que necesitaban bajo la guía de Nora. A Nora la extrañaremos mucho y le deseamos lo mejor.
Durante la transición para identificar el reemplazo de Nora, la Junta se contactó con el Center for Volunteer and Nonprofit Leadership para ayudar en el proceso de selección. Beth fue elegida para servir como la especialista en transición de Matrix.
Beth se ha desempeñado como directora ejecutiva interina de 14 organizaciones sin fines de lucro y directora permanente de cuatro organizaciones de servicios sociales y salud mental en Contra Costa, Marin y la Península. Ella tiene 27 años de experiencia en gerencia ejecutiva. Ha trabajado con muchas organizaciones de servicios familiares y ha dirigido centros de recursos familiares y programas de bienestar infantil. Las organizaciones con las que ha trabajado incluyen el Centro Edgewood para Niños y Familias, la Familia Judía y los Servicios para Niños, la Agencia de Niños de East Bay, el Programa de Padres Infantiles de la UCSF, el Instituto de Agricultura de Marin, Shelter, Inc. y muchos más. Ella se especializa en el manejo de transición y junta de gobierno.
Beth espera trabajar con Matrix. "Estoy encantada de trabajar con esta importante organización durante este momento crítico de su ciclo de vida. Cuando una líder a largo plazo como Nora sale, es tan importante contar con un liderazgo experimentado que garantice la continuidad de los servicios estelares y la sostenibilidad continue en la organización. Estoy emocionado de trabajar con Matrix y para los condados y las familias a las que sirven ".
La misión de Matrix es Empoderar a las familias de niños con necesidades especiales para entender y acceder con éxito a los sistemas que les sirven. El logro de esta misión requiere una colaboración estrecha y un apoyo mutuo constante entre muchas organizaciones, recursos y sistemas comunitarios que atienden a familias y niños con necesidades especiales. Matrix funciona como un centro regional de asistencia técnica para 11 estados y 26 organizaciones, así como un centro de recursos familiares de Early Start para los condados de Marin, Solano y Sonoma.
La Junta de Directores cree que con el liderazgo correcto, Matrix prosperará y continuará sirviendo efectivamente a nuestros constituyentes. Alexis Lynch, Presidente de la Junta, dijo esto, "Esperamos trabajar con Beth durante los próximos meses mientras determinamos el mejor nuevo liderazgo para Matrix a medida que avanzamos hacia nuestro futuro y alcanzamos nuestros objetivos estratégicos".