It is with great sorrow that we announce the unexpected, untimely death of our beloved and glorious Mighty Milers Coach, Mark Drafton.
We lost "Coach Mark" in June. He leaves behind his beloved wife Wendy, and children Kona and Olivia.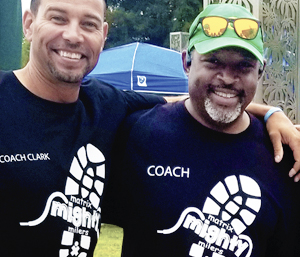 Coach Mark was Mighty Milers. Through his dedicated work with the team, he shared his love and passion for family and kids, for running, for humankind. He saw every child to have deep potential. Coach Mark dug deep to help them find their will to meet it. He saw every child as able to fully use their bodies. He taught them capability. He saw every child's desire to succeed. He helped them find dedication.
Coach Mark's commanding, deep, trusting voice built self-esteem and confidence, so that the team members could find relationships with themselves, with helpers, with him. These seeds Coach Mark planted, now more than ever, still need watering. From those of us lucky to have known him and learned from him, we promise to take his lessons and continue to water from Coach Mark's beautiful fountain.
The Mighty Milers creates a space of belonging where no child or family member has to change shape. For Coach Mark's leadership in creating that space, we will always be grateful. We promise with every step we run, to honor his beautiful legacy.