Description:
Family Voices of California, en asociación con California Department of Health Care Services and Matrix Parent Network, presenta:

Taller sobre el Modelo de Niños/as 
en su Totalidad
(Whole Child Model Workshop) de Servicios para Niños de California 
(California Children's Services, CCS, por sus siglas en inglés).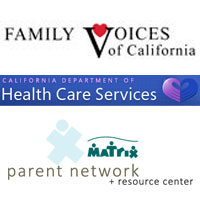 El modelo de los Niños/as en su Totalidad (WCM, por sus siglas en inglés) es una nueva manera de coordinar los servicios de salud para su hijo/a, que empezará el 1ro de enero de 2019. Bajo este Nuevo modelo de Enfocarse en los Niños/as en su Totalidad, el Plan de Salud "Partnership" cubrirá los servicios de cuidado de la salud primaria, especialistas, y servicios de salud del comportamiento para niños/as en los siguientes condados: Del Norte, Humboldt, Lake, Lassen, Marin, Mendocino, Modoc, Napa, Shasta, Siskiyou, Solano, Sonoma, Trinity, Yolo.
¿Qué necesito para estar listo/a para esta transición?
¡Te pagaremos por tu tiempo!
Habrá estipendios disponibles para todas las familias que asistan.
Para preguntas y más información:
abarclay@familyvoicesofca.org
Toll Free: (888) 387-0393