April 1, 2020




10:00 am - 12:00 pm
Los entrenamientos en persona posponen hasta Abril 6
¡

Kindergarten ya! ¿A dónde va el tiempo?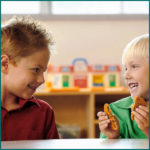 Fue ayer cuando dejé a mi hijo pequeño en el preescolar.
¿Qué va a ser diferente?
¿Qué necesito saber?
¿Cómo puedo preparar a mi pequeño para la escuela de "niño grande"?
Venga a aprender qué esperar, junto con consejos útiles para facilitar la transición de su hijo (y su) al jardín de infantes.
Gratis para familias / $25 para profesionales
Free for families / $25 for professionals
Venue Phone: 415-884-3535
Address:
94 Galli Drive, Suite C,
,
Novato
,
California
,
94949
,
United States
Description:

Matrix's central office, located in Novato and primary location for trainings and workshops.