August 24, 2019 -
Matrix Mighty Milers are lacing up their shoes and training for the Santa Rosa 5k Race on August 24th!

Thank you to all who joined us for our first Mighty Milers training.
We look forward to seeing you all at our THIRD PRACTICE on Thursday July 25 at 5:30 pm at Howarth Park in Santa Rosa!
Matrix Mighty Milers is an inclusive running program for children of all ages and abilities. The Mighty Milers program includes weekly training runs with coaches Mark Drafton and Natalie Pesce. These runs prepare the children for The Santa Rosa Marathon 5K race on August 24th. Every child, regardless of ability, should have the opportunity to set, train for, and reach a goal.
Click here to download an event flyer
Click here to download a sponsor packet
Weekly practices
Thursdays 5:30 pm
July 11- August 22.
Howarth Park, Santa Rosa
En Español–El Entrenamiento Mighty Milers comienza el 11 de Julio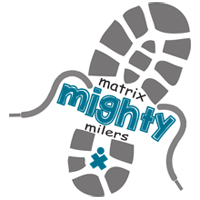 Programa de Carreras de Verano para Jóvenes de Todas de Habilidades.
Un programa de verano inclusivo para niños con y sin necesidades especiales.
¡Se invita a los hermanos, familiares y amigos a participar!
El entrenador Mark dirigirá un entrenamiento de equipo infantil de siete semanas durante el verano en preparación para la Carrera 5K del Maraton de Santa Rosa.
Con la inscripción, cada niño recibirá lo siguiente:
Inscripción gratuita a la carrera 5K de Santa Rosa Maraton 5K.
Programa de entrenamiento de 7 semanas.
Carreras semanales de entrenamiento en equipo.
Camiseta de entrenamiento en equipo (T-shirt).
El segundo entrenamiento de Mighty Milers es el 25 de julio.
El día de la carrera es el 24 de Agosto.
Prácticas semanales Jueves 5:30 pm • 11 de Julio - 22 de Agosto
Parque Howarth • Santa Rosa
Haga clic aquí para ver o descargar
Para más información contacte a Brianna: briannai@matrixparents.org