Originally posted Posted on December 5, 2012
For kids who have a hard time taking the perspective of others — kids with "social thinking" challenges — coming up with presents for Mom, Grandpa, or a school buddy is a near-Herculean task.
After all, a present is a way of saying, "I know you, and when I put myself in your shoes, I think you would like this."
My son, who has an Asperger's diagnosis, doesn't do that so well. He is great at thinking of stuff we should buy him. He is the king of online browsing. While I cook, he tells me about various toys in great detail, then emails me the links to buy them.
But he's not so keen to shop for others. His gift-buying for friends and relatives has always been heavily facilitated. I suspect that this aspect of "thinking of others" needs to be explicitly taught.
So this year I made a worksheet that breaks down the steps involved in buying a present. Here is one he filled out for a close relative: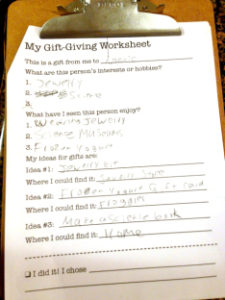 Step 1:
Brainstorm about what the person likes. Note there are two ways to think about this: by interests and hobbies, which are more abstract categories ("science"); and by what the child has seen the person enjoy, which is more experiential ("frozen yogurt").
Step 2: Building on the ideas in Step 1, come up with some ideas for gifts.
Step 3: Figure out where the gifts might be purchased or made.
Step 4: Follow through! After your child makes or buys a present, let him or her check off the box and write out what is certainly the world's best present. If you're offering positive reinforcement, follow-through should be a big part of earning the reward.
The worksheet pictured led my son to buy a little jewelry kit online. It has arrived, and we will wrap it, but the best part will be watching him revel in "ooohs" and "ahs" when his Nonnie opens it.