DSE Playtime coming to Marindale Campus this Saturday
Coming Saturday May 5th!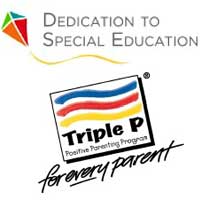 The next Dedication to Special Education (DSE) Playtime will be held on May 5th at 10:00 am on the Marindale campus.
This month's DSE Playtime will again include a Positive Parenting Program (Triple P) session at 10:30 am.
Triple P is designed for parents of children with special needs. The program presents concrete strategies for building a strong relationship, while also addressing typical parenting challenges. This month's offering focuses on dealing with disruptive behavior.
Click here to download Dedication to Special Education (DSE) Playtime flyer (English and Español)
Click here to download Positive Parenting Program (Triple P) flyer