SPONSOR • PARTICIPATE • VOLUNTEER
Your generosity as an event sponsor and/or volunteer helps to shape the stories of so many local families and children with special needs! Your participation in all forms brings us together as a community. As a result of your support, Matrix continues to serve more families through expanded outreach and informational sessions. When a family finds us, they often find a missing part to their story. Together, we will find hope, and make the special needs journey a little less daunting.
SANTA ROSA MARATHON 2023!
Support for Matrix Mighty Milers = Support for Matrix Programs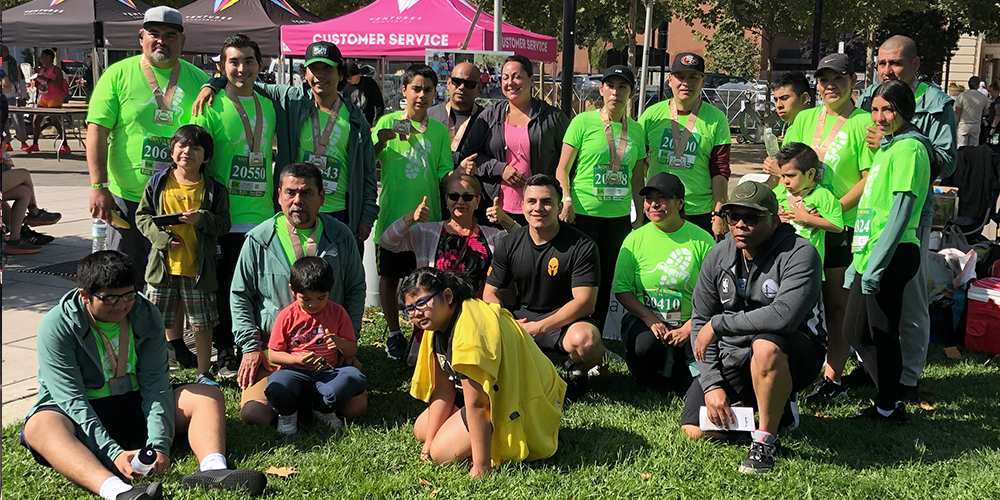 The Santa Rosa Marathon was an exciting day for our 2023 Mighty Miler team. Our team was warmed up and guided to a fantastic 5K race by coaches HM1 (Hospital Corpsman First Class) LaToddvin Washington (U. S. Navy) and Sergeant Anthony Flores (U. S. Marine Corps). We are also grateful to Coach Eduardo Perez for training the team. Thank you to all who participated!
El Maratón de Santa Rosa fue un día emocionante para nuestro equipo Mighty Milers 2023. Nuestro equipo fue calentado y guiado a una fantástica carrera de 5 km por los entrenadores HM1 (Ayudante Médico Hospitalario de Primera Clase) LaToddvin Washington (U. S. Navy) and Sergeant Anthony Flores of the (U. S. Marine Corps). También agradecemos al entrenador Eduardo Pérez por entrenar al equipo. ¡Gracias a todos aquellos que participaron!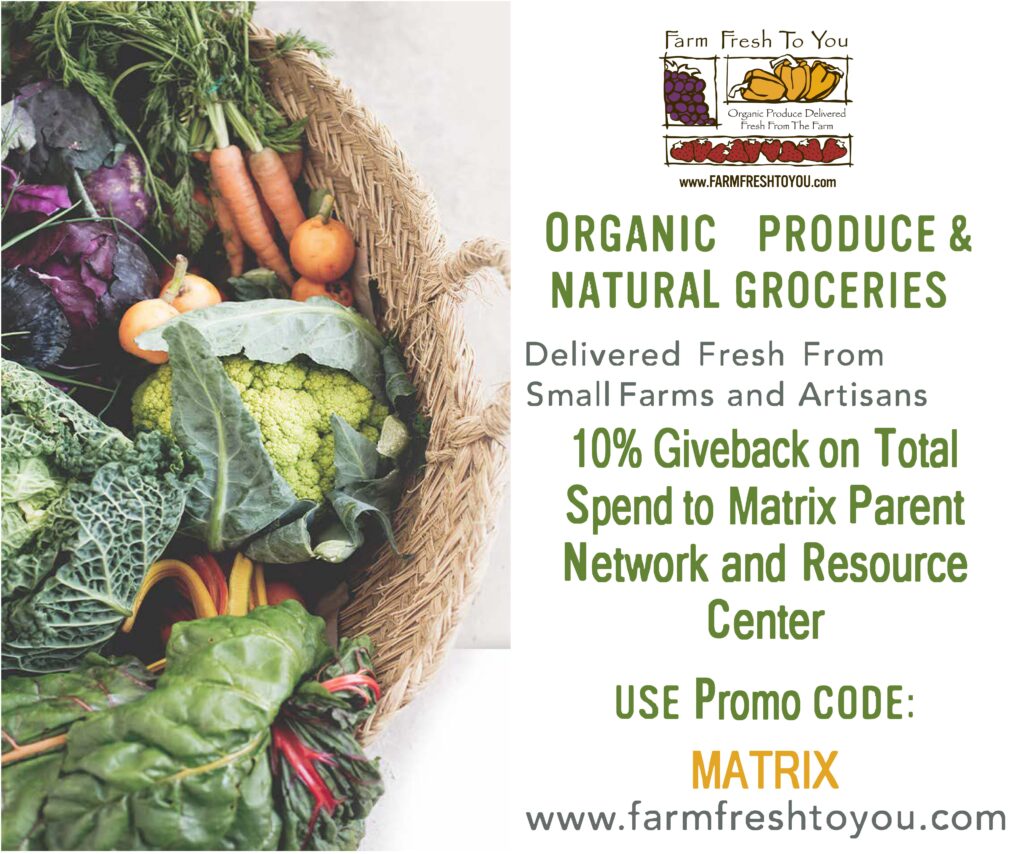 MANY THANKS FARM FRESH TO YOU. We appreciate all of your support and our partnership with you!
Farm Fresh To You, a family farm growing organically since 1976, is proud to partner with Matrix Parent Network & Resource Center to offer our members a healthy way to fundraise.

Sensitive Santa 2022 kicks off the holiday season!
Wow, we are still reeling over here about our Santa Event this weekend. What a fun way for our community to connect and kick off the holiday season. We could not do any of this without our community partners, sponsors, and volunteers. Thank you!!
We were able to raise over $9,000 for Matrix Parent Network and Resource Center!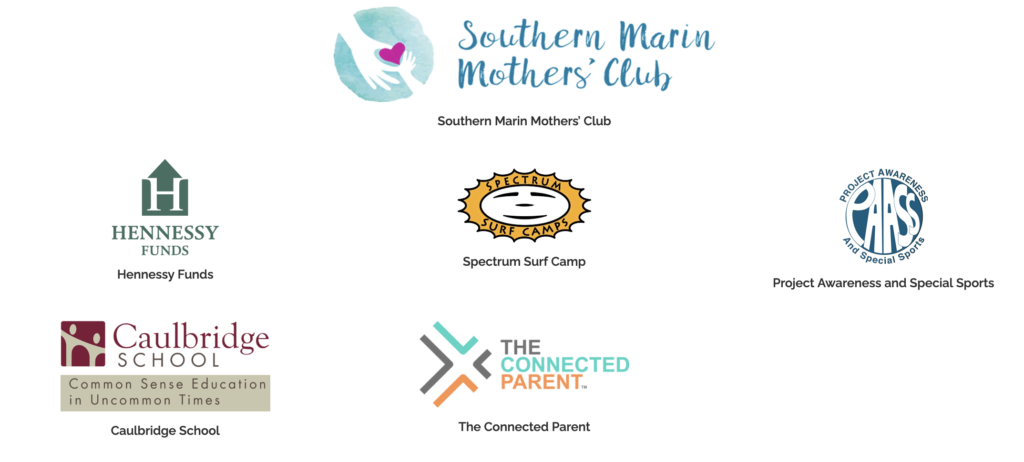 SPONSORS: Marin Center for Independent Living • Hennessy Funds • Southern Marin Mothers' Club • Spectrum Surf Camp • Project Awareness and Special Sports • Caulbridge School • The Connected Parent PARTNERS: Common Ground Society • United Cerebral Palsy of the North Bay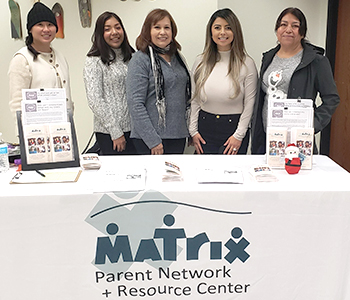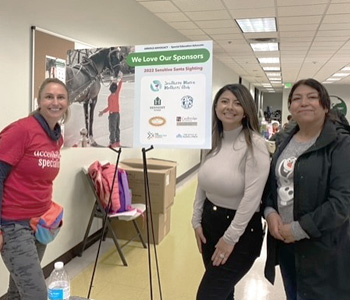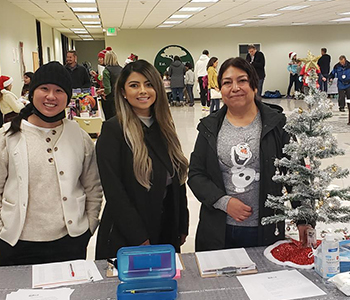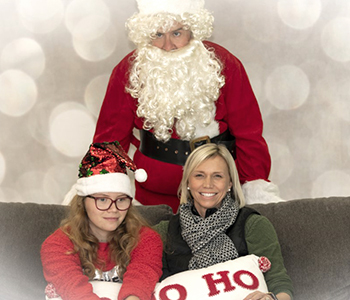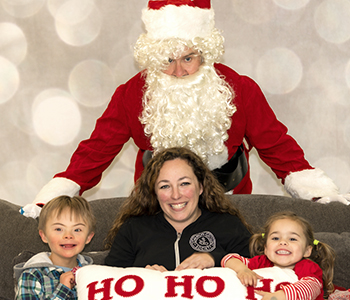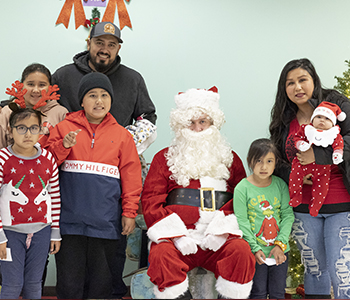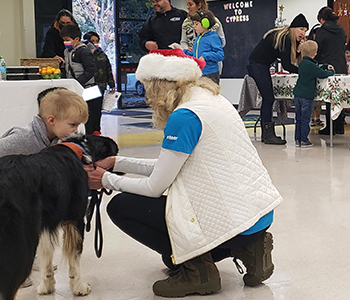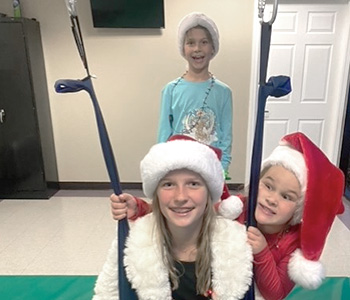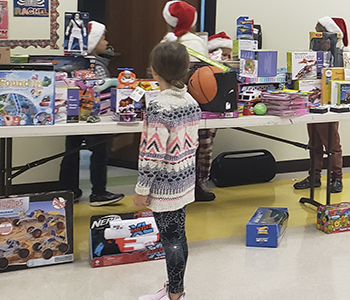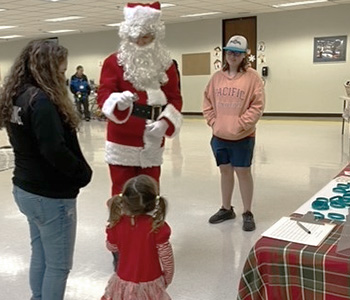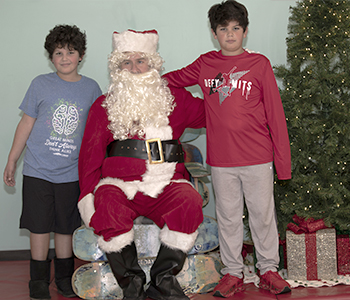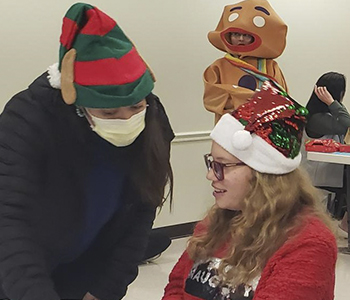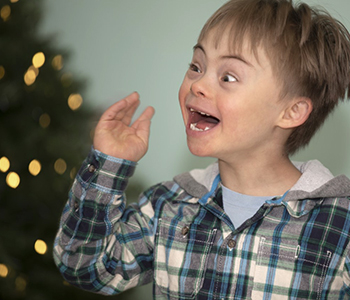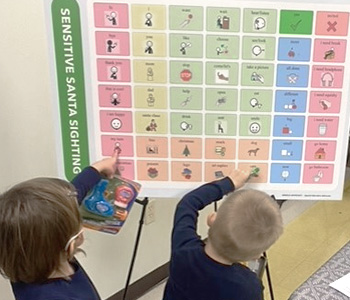 We are so grateful to our Board President, Colleen Arnold, for her leadership, enthusiasm, creativity, and perseverance. Her tireless efforts made this event a huge success and put the FUN in FUNdraiser. Our Program Director, Julie Feliz, along with Parent Advisors, Hill Pashalides and Dulce Santos, and Ana Acosta, Manager of Bilingual Parent Services, all volunteered their time and energy. Office and Resource Manager, Gloria Ochoa, volunteered with two of her granddaughters! Thank you to all who helped out. Most importantly, we want to thank all who attended and made Sensitive Santa 2022 a success.
We showed real resilience and flexibility this year with a change in location, last minute Santa change, as well as the RAIN. However, the smiles on our kids' faces when they met Santa, the amazing gifts we were able to hand out, and the organizational and individual connections that were made, made all the difference.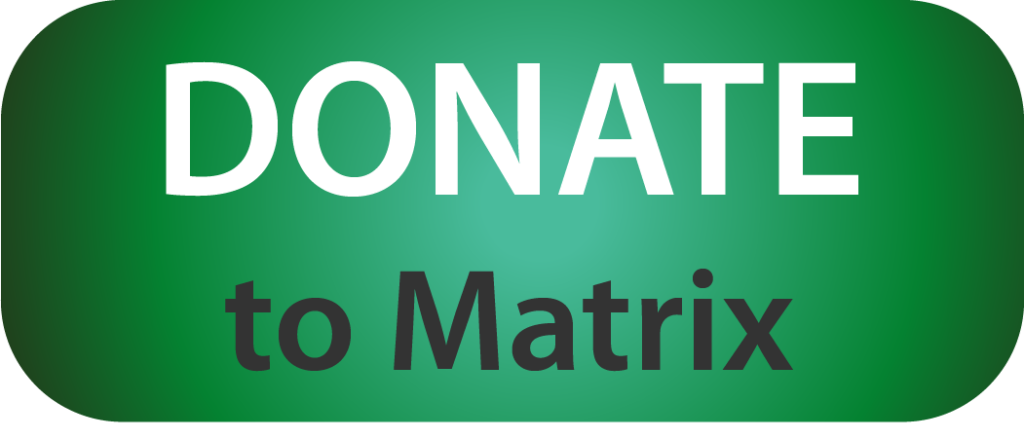 The 2022 Santa Rosa 5K Marathon was a SUCCESS!! We are grateful to Santa Rosa Marathon for supporting Matrix Mighty Milers in 2022!
We are very grateful to Ventures Endurance for sponsoring Matrix for the 6th year. A percentage of the beer proceeds will go towards funding our Matrix programs. Check out our GoFundMe page.
" 'Be Nice' and help change someone's life" Jonathan Feliz (proud stepdad!!)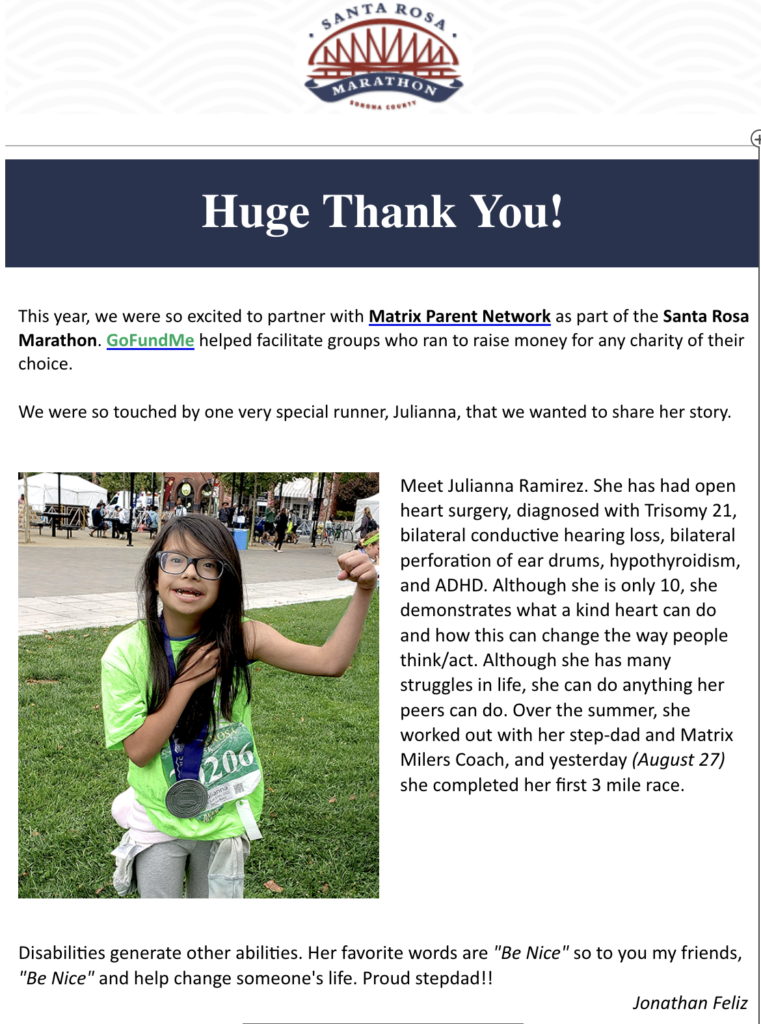 The Santa Rosa 5K Marathon was a lot of fun! The children were shy at first, but after running with Coach Jonathan and their Mighty Milers team, they came back with so much energy. They were happy and excited, high fiving one another and saying "WE DID IT!" And the parents couldn't believe that they had run a 5K alongside their children!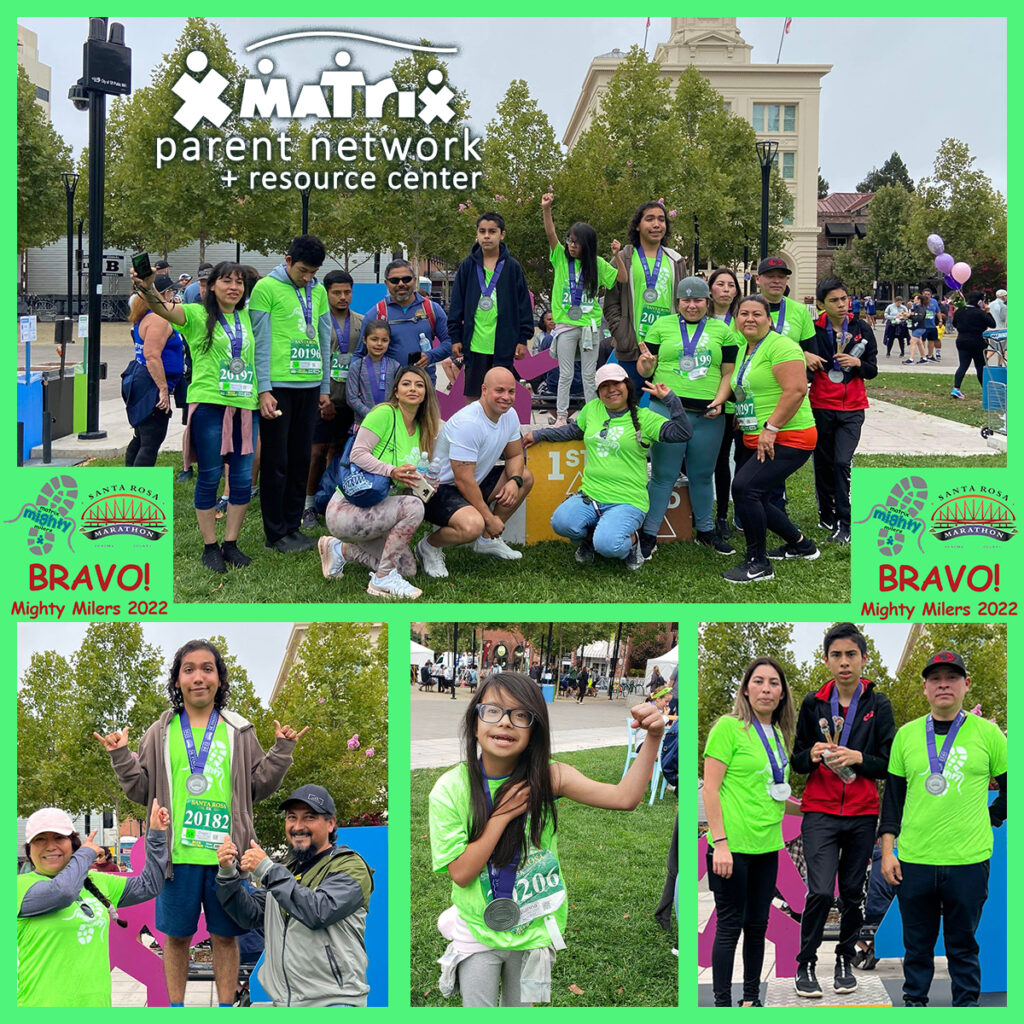 All of the expressive photos used in these event images were taken by Melissa Ochoa. Thank you Melissa!
Thank you Coach Jonathan!
We are all so grateful for all of the enthusiasm and unity you brought to our team. You rallied the team and encouraged everyone who raced!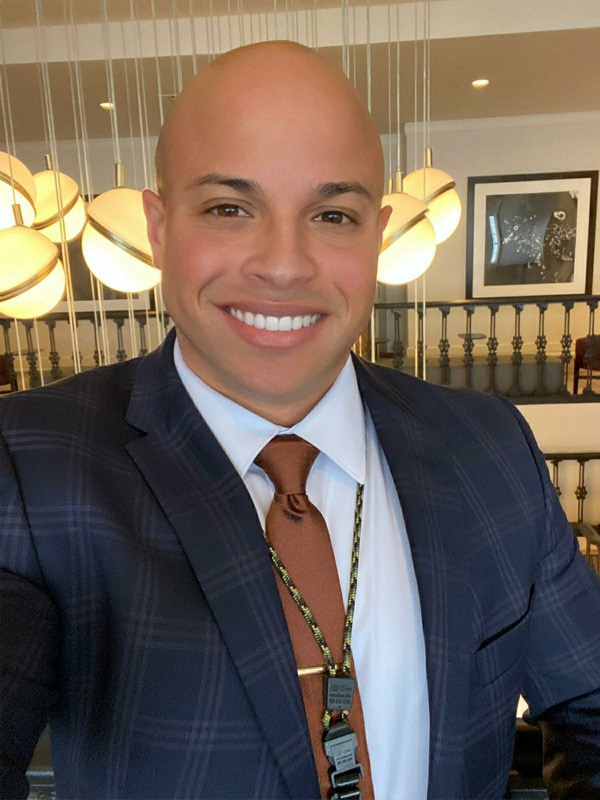 Jonathan Feliz currently serves as the Senior Enlisted Advisor and has been serving on Active Duty in the United States Marine Corps since 2003. Coach Jonathan's marathon experience includes (4) Full Marathon's, (8) Half Marathon's, (4) Spartan Races/Mud Runs, and (1) Duathlon. He enjoys the outdoors, cooking, gardening and a good challenge.
Thank You to Our Wonderful Volunteers!!!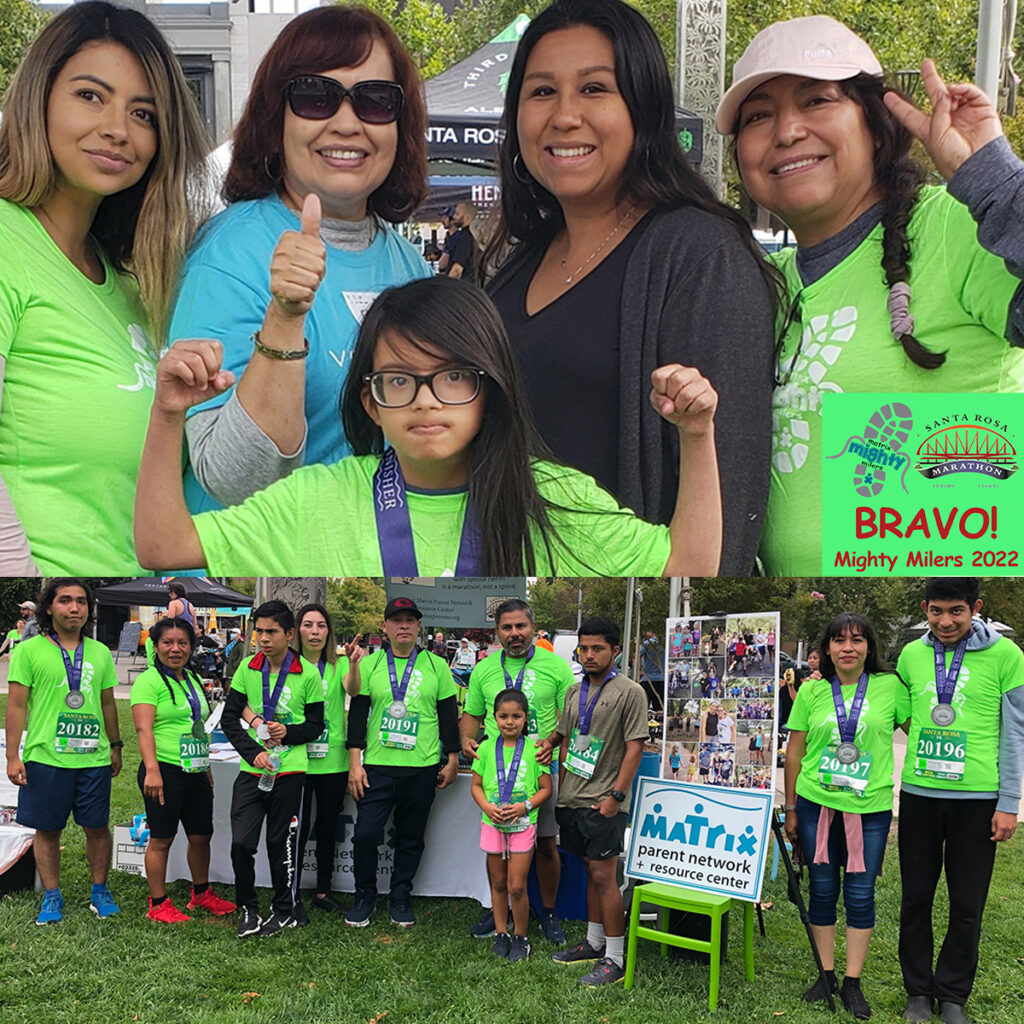 The best volunteers in the land (and yes…there were more) and the team (bottom).
We are so very grateful for your support and help in preparation of Race Day, during race day, and in closing.
Dulce Santos -Beer Garden
Gloria Ochoa- Beer Garden
Jasmine Ochoa – Beer Garden
Melissa Ochoa – Photography and Beer Garden
Ron Carillo – Beer Garden
Heather Johnson – Beer Garden
Colleen Arnold – Beer Garden (for Sunday)
Ana Acosta – Matrix Booth
Mayra Madriz – Matrix Booth
Heather Johnson – Matrix Booth
---
¡MARATÓN EN SANTA ROSA 2023!
MANTÉNGASE SINTONIZADO • Convocatoria para voluntarios • Detalles próximamente
Regístrese, corra y sea voluntario.
¡Démosle una calurosa bienvenida a Eduardo Pérez, nuestro entrenador de Mighty Milers 2023!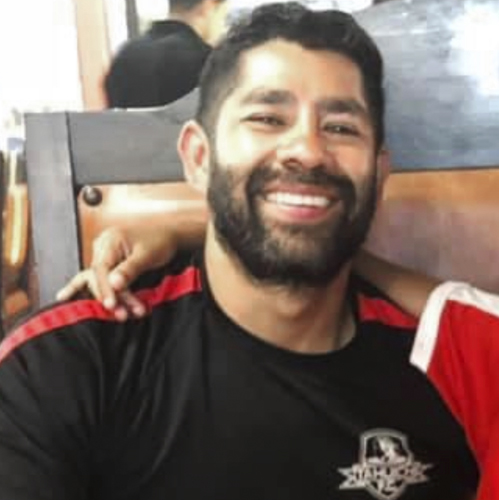 Eduardo es padre de tres hijos y le apasiona jugar al fútbol. Le encanta ver a sus hijos jugar fútbol y enseñarles técnicas de fútbol. Ha sido entrenador de fútbol desde 2015. Eduardo ha sido entrenador del Rohnert Park Soccer Club y del Tahuchi Futbol Club. Eduardo tiene experiencia como entrenador de equipos competitivos, recreativos y de interior. Actualmente es el entrenador del equipo masculino Tahuchi FC 2010. ¡Somos muy afortunados de tener un entrenador con las habilidades de Eduardo entrenando a nuestro equipo Mighty Milers 2023!
Establesca una meta de verano para correr el Maratón de Santa Rosa 5K.
Únase a Matrix Mighty Milers para un programa inclusivo de carreras de verano para niños con y sin necesidades especiales.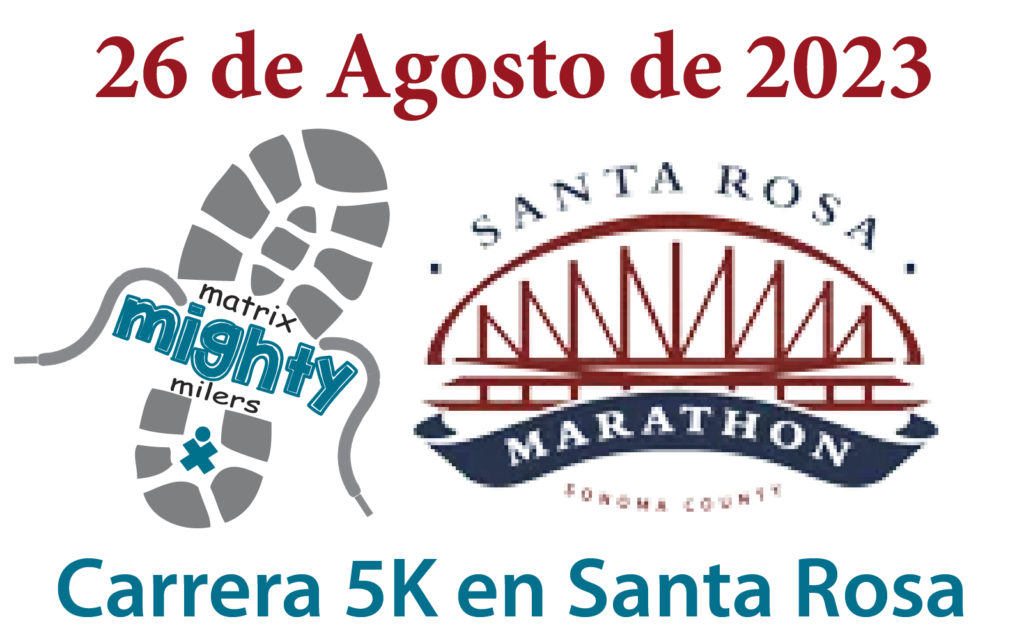 ¡Se les anima a los hermanos, familiares y amigos a participar! Los niños con necesidades especiales merecen experimentar las mismas oportunidades que experimentan otros niños.
Matrix Mighty Milers apoya a los niños con necesidades especiales, a sus familias y a sus compañeros. Es un programa inclusivo de carreras de verano para niños de todas las edades y capacidades.
Mighty Milers es una oportunidad para que los niños con necesidades especiales participen en un equipo con sus compañeros de desarrollo típico.
Matrix Parent Network and Resource Center ha sido seleccionado como el beneficiario sin fines de lucro del Maratón de Santa Rosa. Un porcentaje de los ingresos se destinará a financiar nuestros programas de Matrix. Ventures Endurance patrocine a Matrix por séptimo año.
Esto es lo que este programa ha significado para una familia:
"Mighty Milers le ha dado a Ella un lugar para hacer cosas por ella misma a nuevos límites y al mismo tiempo sentirse bien acerca de dónde está hoy. Puede esforzarse al máximo y alcanzar nuevas metas, o puede ser que tenga un día difícil en el que todo sea demasiado para ella. De cualquier manera, se siente aceptada y comprendida. Altas expectativas para sus desafíos adicionales es lo que espero para Ella. Mighty Milers ofrece ambos. Le ha dado a nuestra familia un lugar para sentirnos parte de la comunidad y experimentar ser parte de un equipo. Este programa ha hecho que Ella pase de estar sentada frente a una pantalla a salir a los senderos. Hoy me dijo que le encanta estar activa".
Sarah Ponsford, madre
Por favor, denos una mano en el beer garden el 26 y 27 de Agosto. Debe tener 21 años de edad o más. ¿No puedes competir pero estás interesado en participar? ¡Únase a nosotros como recaudador de fondos o ayúdenos a encontrar patrocinadores!
---
¡Sensitive Santa 2022 comienza la temporada navideña!
Para participar en la rifa, marque la casilla Sensitive Santa en la página Matrix Donate. Una donación de $20 incluye la entrada a la rifa. Gane esta batería de respaldo YETI, donada por Marin Center for Independent Living (MCIL).
Estamos muy agradecidos con todos nuestros maravillosos patrocinadores de eventos:
SOCIOS: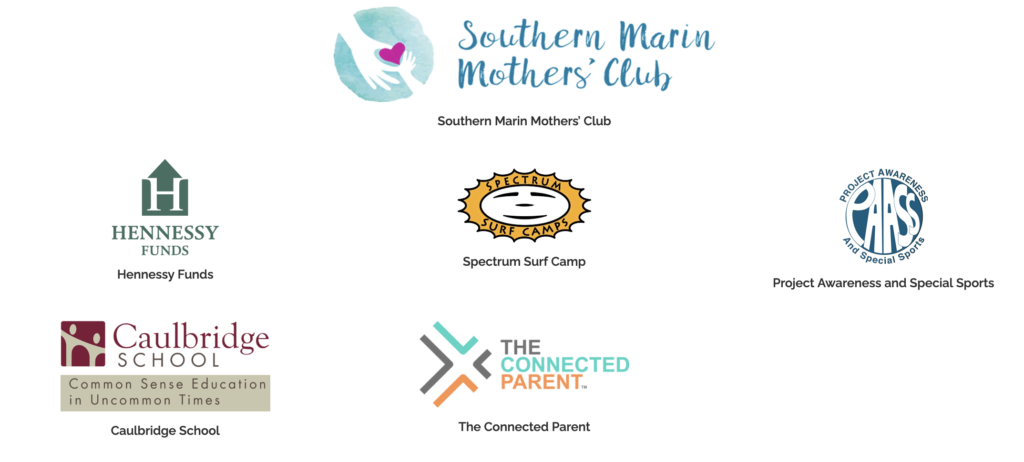 ¡El Maratón 5K de Santa Rosa 2022 fue un ÉXITO!
¡Agradecemos a Santa Rosa Marathon por apoyar a Matrix Mighty Milers en 2022!
"Conosca a Julianna Ramírez. Se sometió a una cirugía a corazón abierto, se le diagnosticó trisomía 21, pérdida auditiva conductiva bilateral, perforación bilateral de tímpanos, hipotiroidismo y TDAH. Aunque solo tiene 10 años, demuestra lo que puede hacer un corazón bondadoso y cómo esto puede cambiar la forma en que las personas piensan/actúan. Aunque tiene muchas dificultades en la vida, puede hacer cualquier cosa que sus compañeros puedan hacer. Durante el verano, hizo ejercicio con su padrastro y el entrenador de Matrix Mighty Milers, y ayer (27 de agosto) completó su primera carrera de 3 millas.
Las discapacidades generan otras habilidades. Sus palabras favoritas son "Sé amable", así que para ustedes, mis amigos, "Séan amables" y ayuden a cambiar la vida de alguien. Orgulloso padrastro!! Jonathan Feliz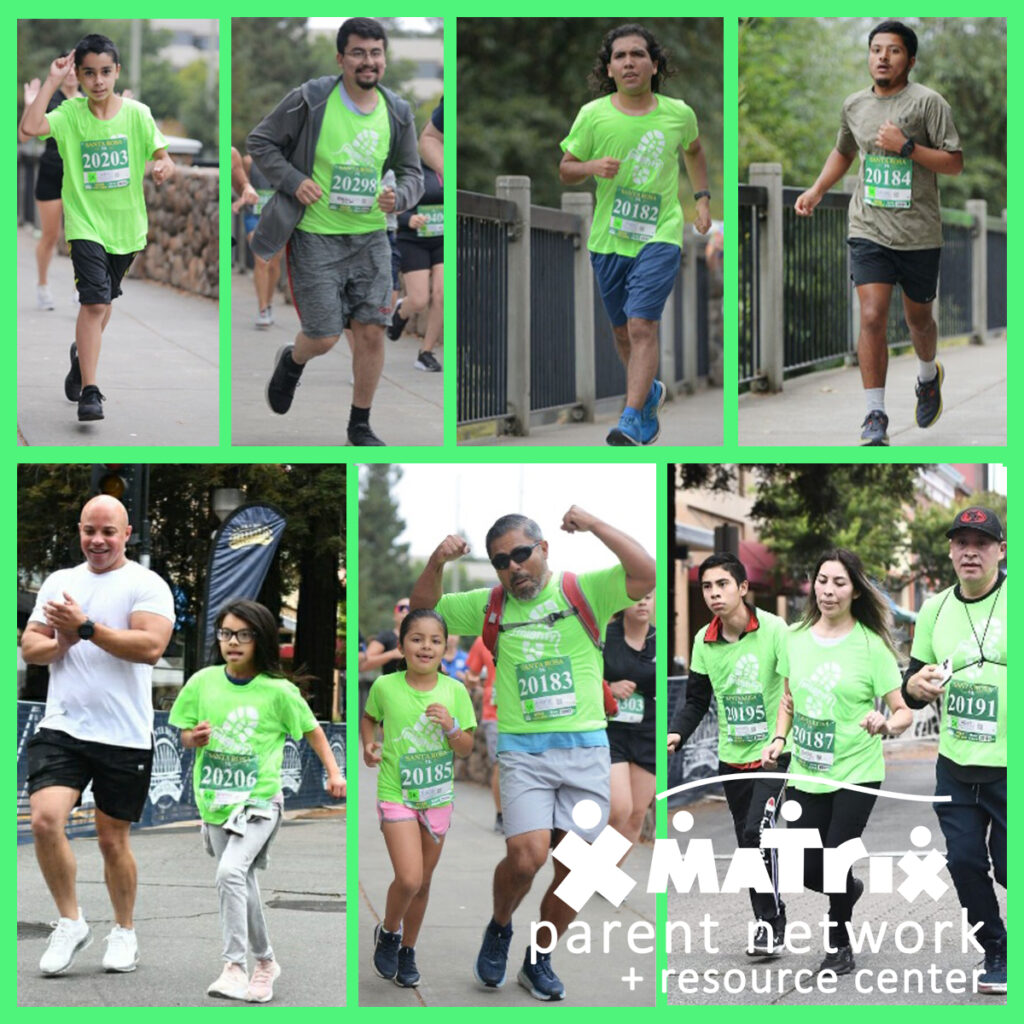 ¡El Maratón de 5K de Santa Rosa fue muy divertido! Los niños eran tímidos al principio, pero después de correr con el entrenador Jonathan y su equipo Mighty Milers, regresaron con mucha energía. Estaban felices y emocionados, chocandola y diciendo "¡LO HICIMOS!" ¡Y los padres no podían creer que habían corrido 5 km junto a sus hijos!
Estamos muy agradecidos con Ventures Endurance por patrocinar a Matrix por sexto año. Un porcentaje de las ganancias de beer garden se destinarán a financiar nuestros programas de Matrix. Consulte nuestra página de GoFundMe.
¡Gracias entrenador Jonathan!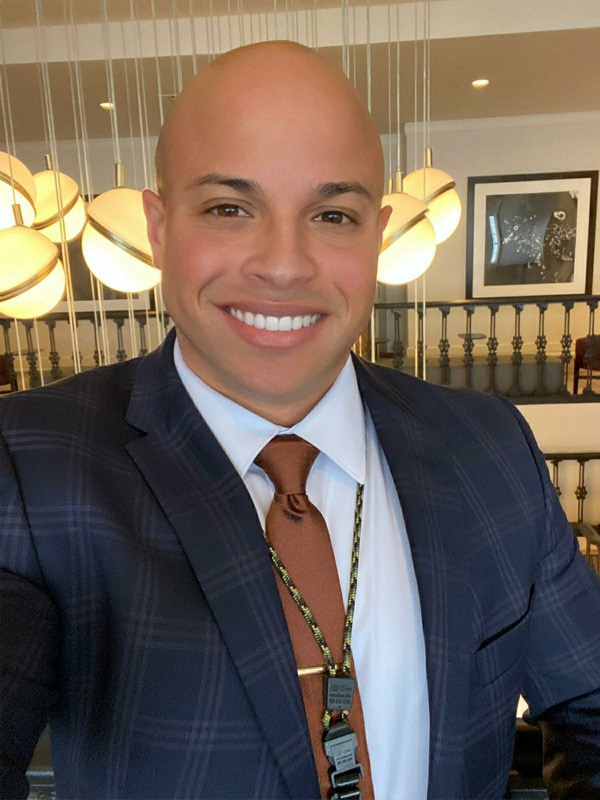 Todos estamos muy agradecidos por todo el entusiasmo y la unidad que trajo a nuestro equipo. ¡Animo al equipo y animo a todos los que corrieron!
Actualmente se desempeña como asesor sénior para alistados y ha estado en servicio activo en el Cuerpo de Marines de los Estados Unidos desde 2003. La experiencia en maratones del entrenador Jonathan incluye (4) maratones completos, (8) medios maratones, (4) carreras espartanas/carreras de lodo, y (1) Duatlón. Le gusta el aire libre, cocinar, la jardinería y un buen desafío.
¡Gracias a Nuestros Maravillosos Voluntarios!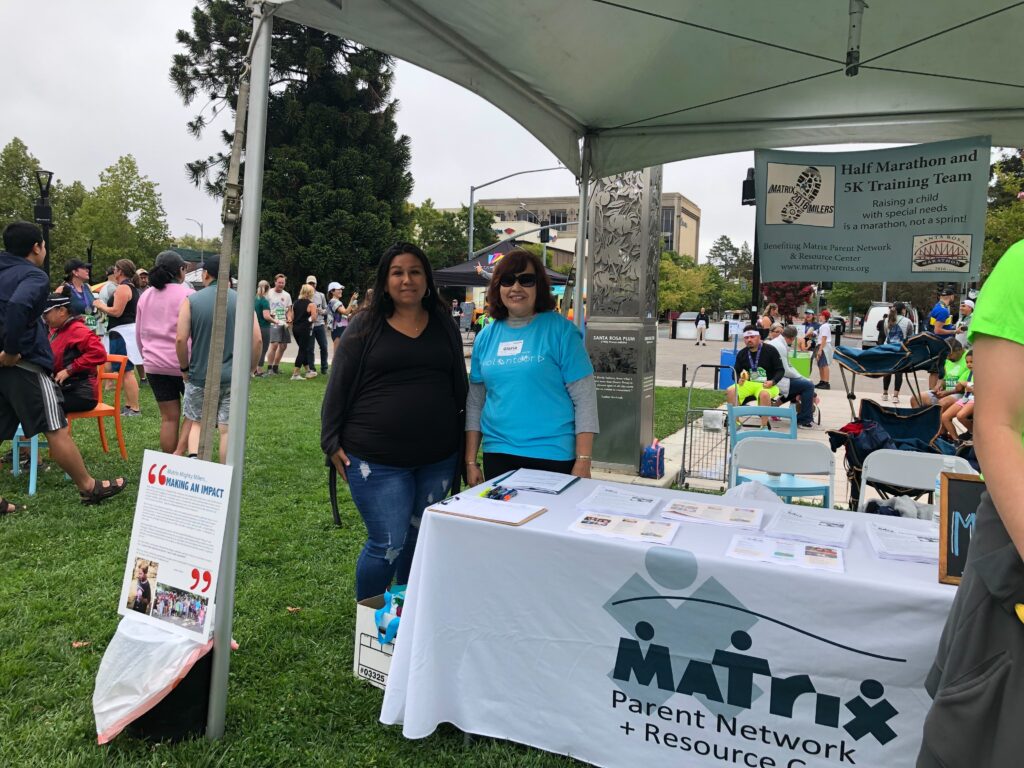 Dulce Santos -Beer Garden
Gloria Ochoa- Beer Garden
Jasmine Ochoa – Beer Garden
Melissa Ochoa – Photography and Beer Garden
Ron Carillo – Beer Garden
Heather Johnson – Beer Garden
Colleen Arnold – Beer Garden (for Sunday)
Ana Acosta – Matrix Booth
Mayra Madriz – Matrix Booth
Heather Johnson – Matrix Booth
---