From Travis Air Force Base: EFMP (Exceptional Family Member Program) Heart Awareness Valentines Party
Please join us in our EFMP heart awareness valentines party! Registration will close February 6th.
Friday, February 10, 2023, 5:30pm – 7:00pm
February is American Heart Month, a time when all people can focus on their cardiovascular health.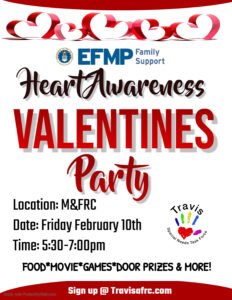 The color red in February is not only used for celebrating Valentine's Day, but to bring awareness to the heart disease.