California Children's Services (CCS) Whole Child Model Workshop
November 14, 2018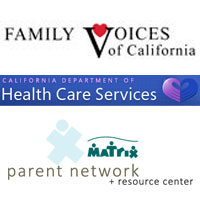 Presented by Family Voices of California, in partnership with California Department of Health Care Services and Matrix Parent Network.
The Whole Child Model is a new way of coordinating your child's health care, coming January 1, 2019. Under the Whole Child Model, Partnership Health Plan will cover both primary, specialty,
and behavioral health care services for children in the following counties:
Del Norte, Humboldt, Lake, Lassen, Marin, Mendocino, Modoc,
Napa, Shasta, Siskiyou, Solano, Sonoma, Trinity, Yolo
Come with all your CCS and Whole Child Model Questions!
Click here to download an event flyer (English)
You will be paid for your time! Stipends available for all attending families. Questions & More Info: abarclay@familyvoicesofca.org – Toll Free: (888) 387-0393