NEW! Middle School Sibshop for 6th – 8th graders (ages 11 – 14)
*NEW: Middle School Sibshop for 6th – 8th graders (ages 11 – 14)
Still full of games and fun activities, this group provides an opportunity for Middle Schoolers to meet and talk with other Middle School sibs that "get it."
Saturday, October 14, 2023
SNACKS PROVIDED
1:00 pm – 5:00 pm
At our Matrix office:
2400 Las Gallinas Avenue, Suite 100
San Rafael, CA
Questions: keelyh@matrixparents.org
Sibshops provide a safe space for young brothers and sisters, who have a sibling with a disability, to get peer support and information. In a lively recreational setting, Sibshops connect siblings living in similar situations using play and storytelling. They provide children opportunities to express and share feelings and thoughts about their sibling with a disability.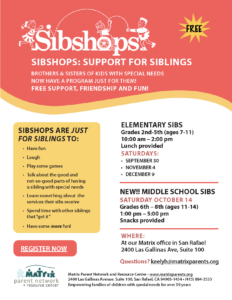 This is an event just for siblings. Parents, we will see you for drop-off and pick-up. Come spend time with other siblings that 'get it'!
_____________________________
Check our calendar and sign up for Elementary SIBS for grades 2nd – 5th (AGES 7 – 11)
10:00 AM – 2:00 PM
LUNCH PROVIDED
SATURDAYS:
SEPTEMBER 30
NOVEMBER 4
DECEMBER 9
SIBSHOPS ARE JUST FOR SIBLINGS TO:
Have fun
Laugh
Play some games
Talk about the good and not-so-good parts of having a sibling with special needs
Learn something about the services their sibs receive
Spend time with other siblings that "get it"
Have some more fun!