Want to lend a hand at our Inclusive Santa Event?
We're looking for enthusiastic volunteers to join in on the fun at our Inclusive Santa event
Saturday December 2, 2023 / Sábado Diciembre 2, 2023
2 pm to 5 pm
3880 Cypress Drive
 Suite A

Petaluma, CA 9495
Want to help out with any of the things listed below?
Checking Families In
Helping with Refreshments
Help with Sensory Support Tools
Handing out Gifts
Managing Parking
Sign Language Interpretation
Outdoor Event
Safe Distancing COVID precautions taken (tests available on-site)
Inclusive Santa is an event developed for children with disabilities and sensory concerns, ensuring that it is an all-inclusive experience for the entire family.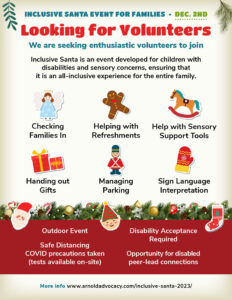 Disability Acceptance Required
Opportunity for disabled peer-lead connections
More info www.arnoldadvocacy.com/inclusive-santa-2023/