August 26, 2023




9:00 am - 12:00 pm
Yes! Mighty Milers will participate in the Santa Rosa 5K Marathon again this year.
CALLING ALL VOLUNTEERS! Follow us on FaceBook and Instagram and check out our website Events page for updates. Learn more about our 7th Mighty Milers race coming up on Saturday August 26 at 9:00 am.
Matrix Parent Network and Resource Center has been selected as the nonprofit beneficiary of the Santa Rosa Marathon. A percentage of proceeds will go towards funding our Matrix programs. Ventures Endurance is sponsoring Matrix for the 7th year.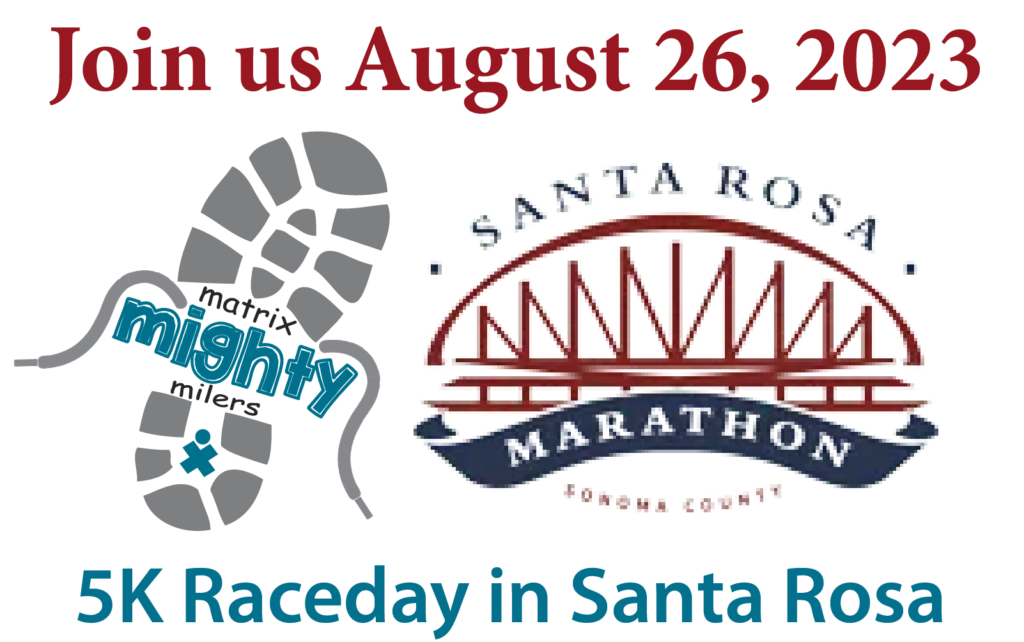 ¡Sí! Mighty Milers participará nuevamente en el Maratón de 5K de Santa Rosa este año.
¡LLAMANDO A TODOS LOS VOLUNTARIOS! Síganos en FaceBook e Instagram y consulte la página de Eventos de nuestro sitio web para obtener actualizaciones. Obtenga más información sobre nuestra séptima carrera de Mighty Milers que se realizará el Sábado 26 de Agosto a las 9:00 am.
Matrix Parent Network and Resource Center ha sido seleccionado como el beneficiario sin fines de lucro del Maratón de Santa Rosa. Un porcentaje de los ingresos se destinará a financiar nuestros programas de Matrix. Ventures Endurance patrocine a Matrix por séptimo año.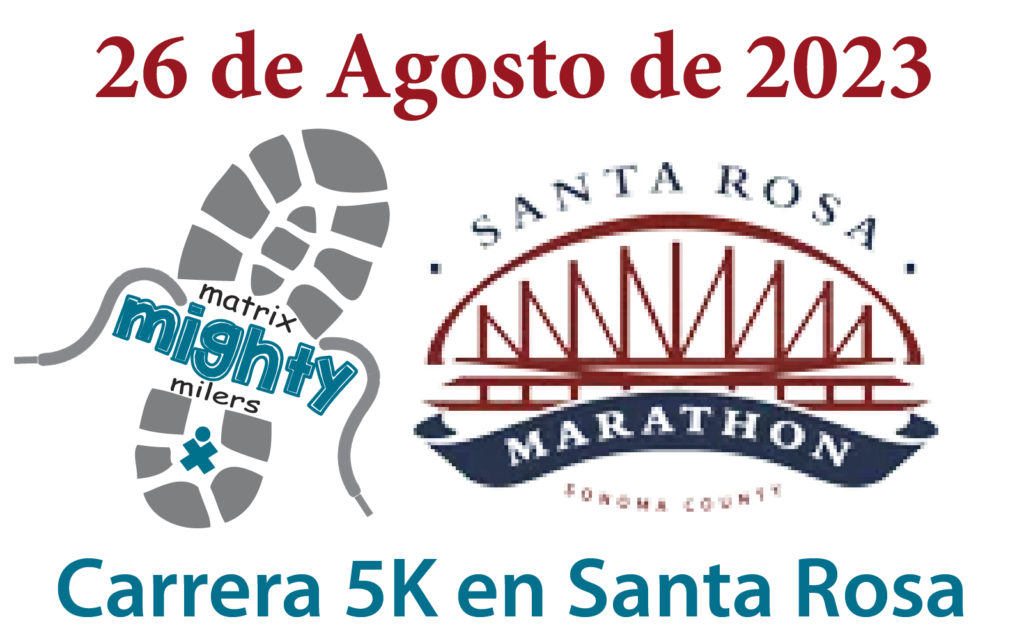 Kids with special needs deserve to experience the same opportunities that other children experience. Matrix Mighty Milers is an inclusive 5K training team for children of all ages and all different abilities. Here is what this program has meant to one family:
"Mighty Milers le ha dado a Ella un lugar para hacer cosas por ella misma a nuevos límites y al mismo tiempo sentirse bien acerca de dónde está hoy. Puede esforzarse al máximo y alcanzar nuevas metas, o puede ser que tenga un día difícil en el que todo sea demasiado para ella. De cualquier manera, se siente aceptada y comprendida. Altas expectativas para sus desafíos adicionales es lo que espero para Ella. Mighty Milers ofrece ambos. Le ha dado a nuestra familia un lugar para sentirnos parte de la comunidad y experimentar ser parte de un equipo. Este programa ha hecho que Ella pase de estar sentada frente a una pantalla a salir a los senderos. Hoy me dijo que le encanta estar activa".
Sarah Ponsford, Parent
______________________________
Los niños con necesidades especiales merecen experimentar las mismas oportunidades que experimentan otros niños. Matrix Mighty Milers es un equipo de entrenamiento inclusivo de 5 km para niños de todas las edades y con diferentes habilidades. Esto es lo que este programa ha significado para una familia:
"Mighty Milers le ha dado a Ella un lugar para empujarse a sí misma a nuevos límites y al mismo tiempo sentirse bien acerca de dónde está hoy. Puede esforzarse al máximo y alcanzar nuevas metas, o puede tener un día difícil en el que todo sea demasiado. De cualquier manera, se siente aceptada y comprendida. Altas expectativas para sus desafíos adicionales es lo que espero para Ella. Mighty Milers ofrece ambos. Le ha dado a nuestra familia un lugar para sentir comunidad y experimentar ser parte de un equipo. Este programa ha hecho que Ella pase de estar sentada frente a una pantalla a estar en los senderos. Hoy me dijo que le encanta estar activa".
Sarah Ponsford, madre