Race Day! Saturday, August 28, 2021
All donations made to Matrix Mighty Milers go to support special needs families. If you have not received a tax receipt for your donation please email kimberlyg@matrixparents.org
¡Regístrese con nuestro equipo de Matrix Mighty Milers y ayúdenos a desarrollar el espíritu de equipo! Háganos saber que está ejecutando el 5K con Mighty Milers. Dinos tu talla de camiseta. Envíe consultas y reciba actualizaciones por correo electrónico de Kimberly.
Register with our Matrix Mighty Milers Team and help us build team spirit! Let us know you're running the 5K with Mighty Milers. Tell us your T-shirt size. Send inquiries and get email updates from Kimberly!
To keep everyone safe this year and still have some FUN we will have a self-paced virtual 5K training! Mighty Milers is a chance for the entire family to get out of the house, move, and do something fun together!
LET'S MAKE THIS YEAR'S MIGHTY MILERS GREAT IN A DIFFERENT WAY!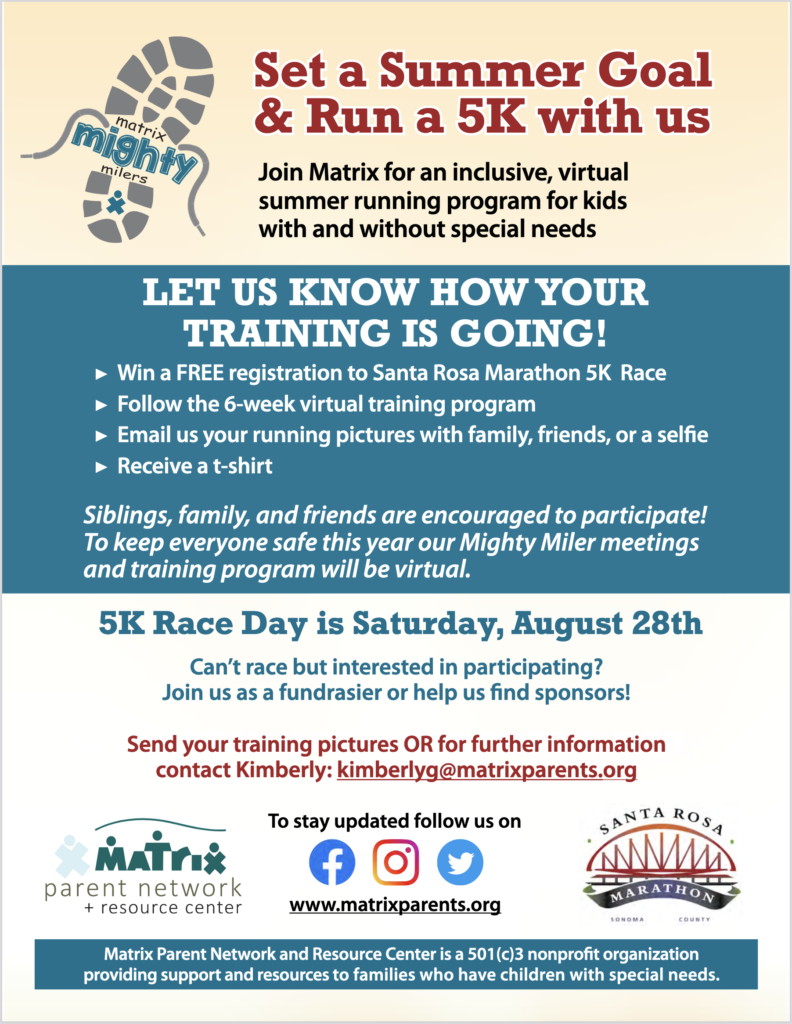 Download Mighty Milers event flyer – English. Tell your friends and family about Mighty Milers!
¡HAGAMOS QUE LOS PODEROSOS MILERS DE ESTE AÑO SEAN GENIALES DE UNA MANERA DIFERENTE!
Háganos saber que está ejecutando el 5K con Mighty Milers. Cuéntanos la talla de tu camiseta. Envíe consultas y obtenga actualizaciones por correo electrónico de Kimberly!
Download a photo release form in English and Spanish / Descargue un formulario de publicación de fotografías en Inglés y Español!
The Santa Rosa Marathon starts and finishes at the Old Courthouse Square in downtown Santa Rosa on Saturday, August 28th for the 5K. After both days of running, the fun continues with the Santa Rosa Beer Fest!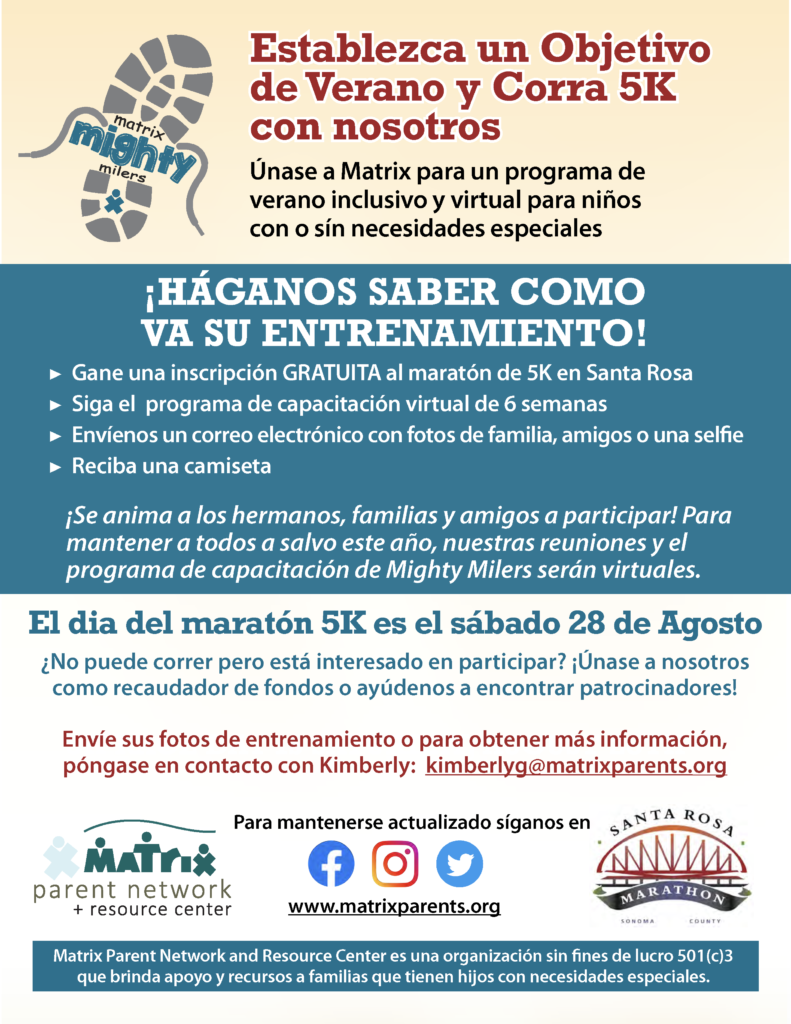 Descargar folleto del evento Mighty Milers – Español. ¡Cuéntale a tus amigos y familiares sobre Mighty Milers!
WE ARE GRATEFUL FOR OUR PARTNERSHIP WITH THE SANTA ROSA MARATHON SINCE 2016!

Matrix is one of Santa Rosa Marathon's charity partners supported by the Ventures Endurance official charity program and Enmotive, official fundraising partner.
GREAT NEWS FOR MIGHTY MILER RUNNERS!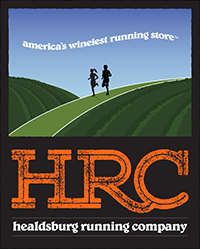 Headsburg Running Company is welcoming our Matrix Mighty Milers to join their Friday Evening Kids Runs starting at 5:00pm at HRC. Click here for their schedule.
WE APPRECIATE OUR PARTNER FARM FRESH TO YOU!